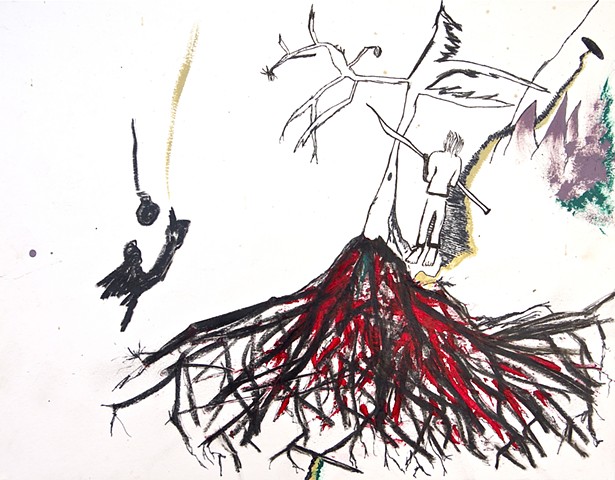 We Came Into This World And Her Shadow Followed
Charcoal, acrylic, pen, & pencil on thick paper
12.00 x 9.00 x 0.10 inches
2012
This piece was inspired by a book by Daniel J. Everett about the Pirahã people*|, titled "Don't Sleep, There Are Snakes". The Pirahã are an indigenous hunter-gatherer group of the Amazon Rainforest.
The title was originally for a story I started to write about a hot, hot, summer with no air conditioning.


*As of 2010, they number 420 individuals. The Pirahã people do not call themselves Pirahã but instead the Hi'aiti'ihi, roughly translated as "the straight ones." ...they can walk into the jungle naked, with no tools or weapons, and walk out three days later with baskets of fruit, nuts, and small game. As far as the Pirahã have related to researchers, their culture is concerned solely with matters that fall within direct personal experience, and thus there is no history beyond living memory (Wikipedia).
The author brought his family to live with them for a long period of time, interesting things happened, and hilarity ensued.