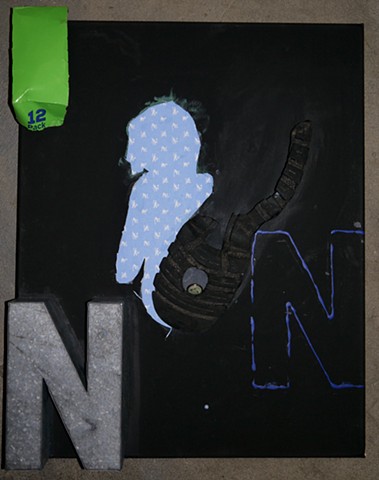 Something Borrowed
Collage & space (rip), found objects, and acrylic on canvas
20.00 x 16.00 x 0.75 inches
September 28, 2017

FOR ZOOMABLE IMAGE: Right-click or control-click on image, and select Open Image in New Tab**.


**(NOT "Open Link in New Tab", which is usually the first option).
This one started from a cutout for a different piece.
I'd like to thank, well gosh there's so many, but um, well, ragged hole of course, first - it all started with you baby - and then also the Dollhouse Shoppe in Lincoln City for providing the wonderful blue birdy paper to merge with the hole. Then there's, let's see, oh yeah! How could I have forgotten!?! The serendipitously found shoe tread in the right place at the, you know what time, and s/he tucked right in there for some flow, and then well here we go, c'mon up here "The Letter N" found on clearance at Joanne's, cause really your solidity and structure just, well, we could not have done it without you, so come on up Enny old pal old chum - I am so sincerely grateful for your help.
And sadly, not here tonight cause his little bebbies sick and also he was having trouble with the color pewter, oh I'm probably not supposed to say that, but Green was a last minute addition, who, like usual, showed up at just the time to be perfect. Thanks Green - you know we all really really like you.