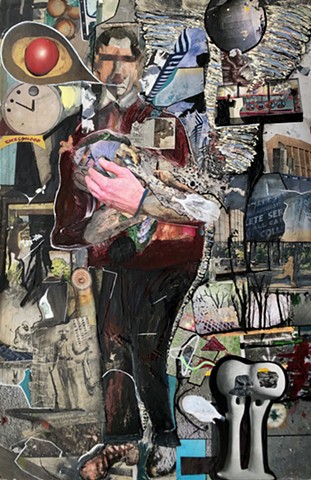 God of The Ideal and Actual
Paper, ink, acrylic, oil, and photos on wood panel
24.00 W x 36.90 H x 0.25 in.
2021
ABOUT THE ARTWORK
Holding my 15-mo-old daughter while riding the bus back from the galleries, I marveled at how safe she must feel to sleep among all the clamor.
I began to consider what that feeling would (could?) be like for an adult - to feel that safe, that protected - and I pictured a giant holding a curled up human, while life and all its intricacies danced around it.
After about a year and a half and many additions and subtractions, this is what came out - a seemingly at first glance tumultuous image, encompassing all the different ways we can be hurt, yet also, underneath, a sense of order, serenity, and safety. A feeling of being at home in the world.
- - - - - - - - - - - - - - - - - - - - - - - - - - - -
FRAMED: No (wall preview may show piece framed for illustration purposes)
SEALED: Yes
SIGNED: Yes, initials on front and full signature on back
**PLEASE NOTE: Wood panel that this piece is on has a slight bend to it. Hanging screws and wire attached if you'd like to mount unframed.