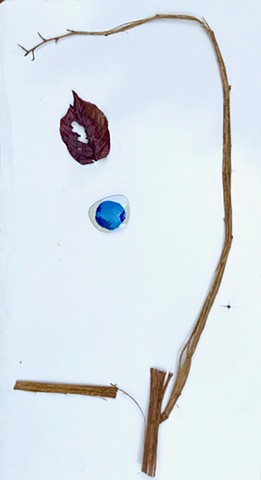 The Blue Reach
Leaf, branch, lens, graphite, and paint on repurposed composite panel
13.25 W x 24.00 H x 0.85 in
2021
(2021)
Leaf, branch, lens, graphite, and paint on repurposed composite panel
13.25 W x 24.00 H x 0.85 in
ABOUT THE ARTWORK
Walking to my studio, I pass by a lot of things on the ground, and don't pick them up. Each thing is a piece of a story - your story, my story, our story.


Sometimes these things call to me, even shout, to fit them together, into a new story.


This piece is a result of one of those days.
- - - - - - - - - - - - - - - - - - - - - - - - - - - -
FRAMED: No (wall preview may show piece framed for illustration purposes)
SEALED: Yes
SIGNED: Yes, initials on front and full signature on back


Most art has an agenda, a place it's taking you.
If I wanted to be taken somewhere by someone who knew where they were going, why would I look at art?
Art is about discovery, about feeling the moment where the artist leapt, and leaping with them.


| THE ART OF EVERYTHING |